Regular price
$89.00
Sale price
$60.00
Unit price
per
Sale
Sold out
Scalp Care Essentials Set 

Create a relaxing and ultimately effective hair care routine with our Scalp Care Essentials Set. Infused with peppermint and tea tree to help treat dandruff and dry scalp, this exquisite collection of products is ideal for all types of hair, leaving you with healthy, moisturized locks.
Set of 4 includes: Treat Shampoo, Soothe Deep Moisture Conditioner, Tame Leave In Conditioner Spray, Good Seed Stimulating Scalp Oil
Key Features:
Tea Tree and Peppermint are proven to help prevent dandruff flakes, dry and itchy scalp, and subside the symptoms of Seborrheic Dermatitis 
Unlike common anti-dandruff shampoos that contain pyrithione zinc, this shampoo and conditioner will treat your scalp but will not rob your hair of its moisture, this is key especially for coarse, natural hair 
Tame leave in conditioner does an amazing job of detangling hair, and providing that necessary second stage of conditioning to the hair after the cleanse and conditioning process. Can be used daily as needed
Perfect for sensitive scalps, our stimulating scalp oil is formulated with calming hibiscus to reduce irritation.Our formula uses natural ingredients like jojoba oil, lemongrass, tea tree, black cumin seed, and Brazilian babassu, to hydrate your scalp.
Recommended steps: 
Part 1: Shampoo with Treat shampoo, rinse and repeat as necessary until you experience a rich lather and cool feeling to the scalp 
Part 2: Apply Soothe conditioner from root to scalp, working through the hair shaft with fingers, or a wide toothed comb. Be GENTLE, the hair is the most fragile while wet. Rinse. 
Part 3: Spray a liberal amount of Tame Leave In Conditioner and blow dry or style wet; according to styling preferences
Part 4: Apply Scalp Oil directly to scalp as needed for relief. Can also be added to conditioner in hand for additional moisture. 
View full details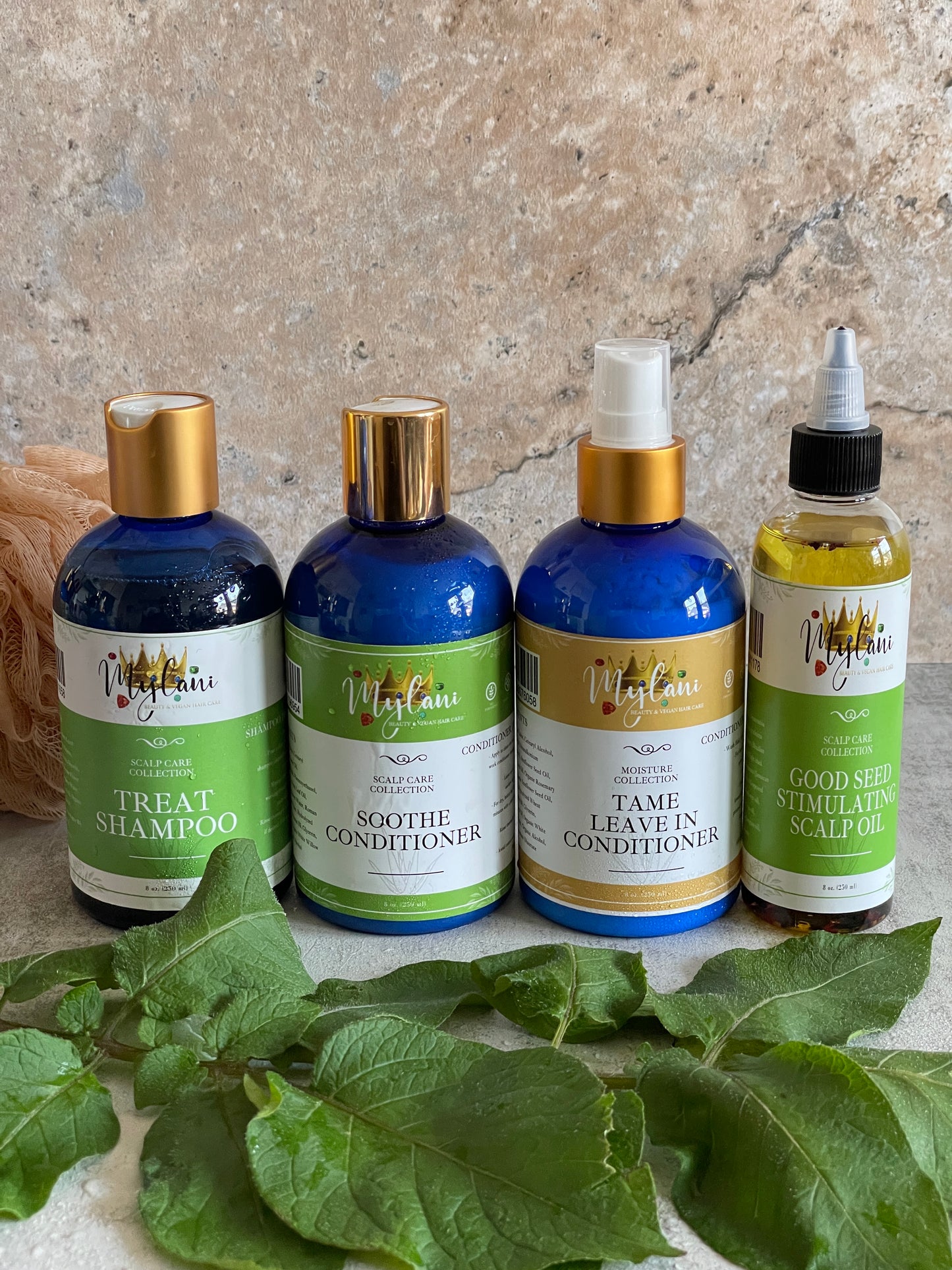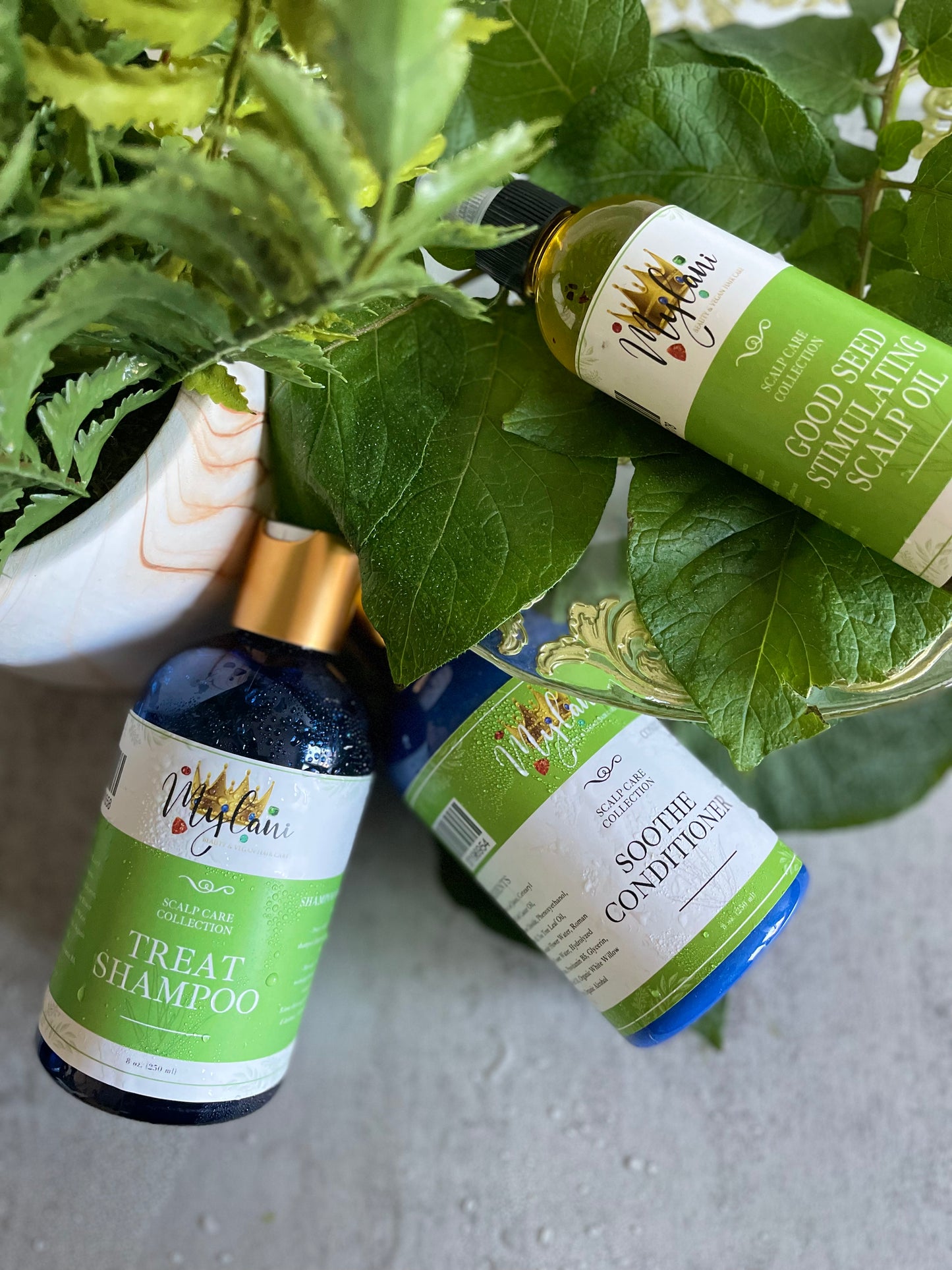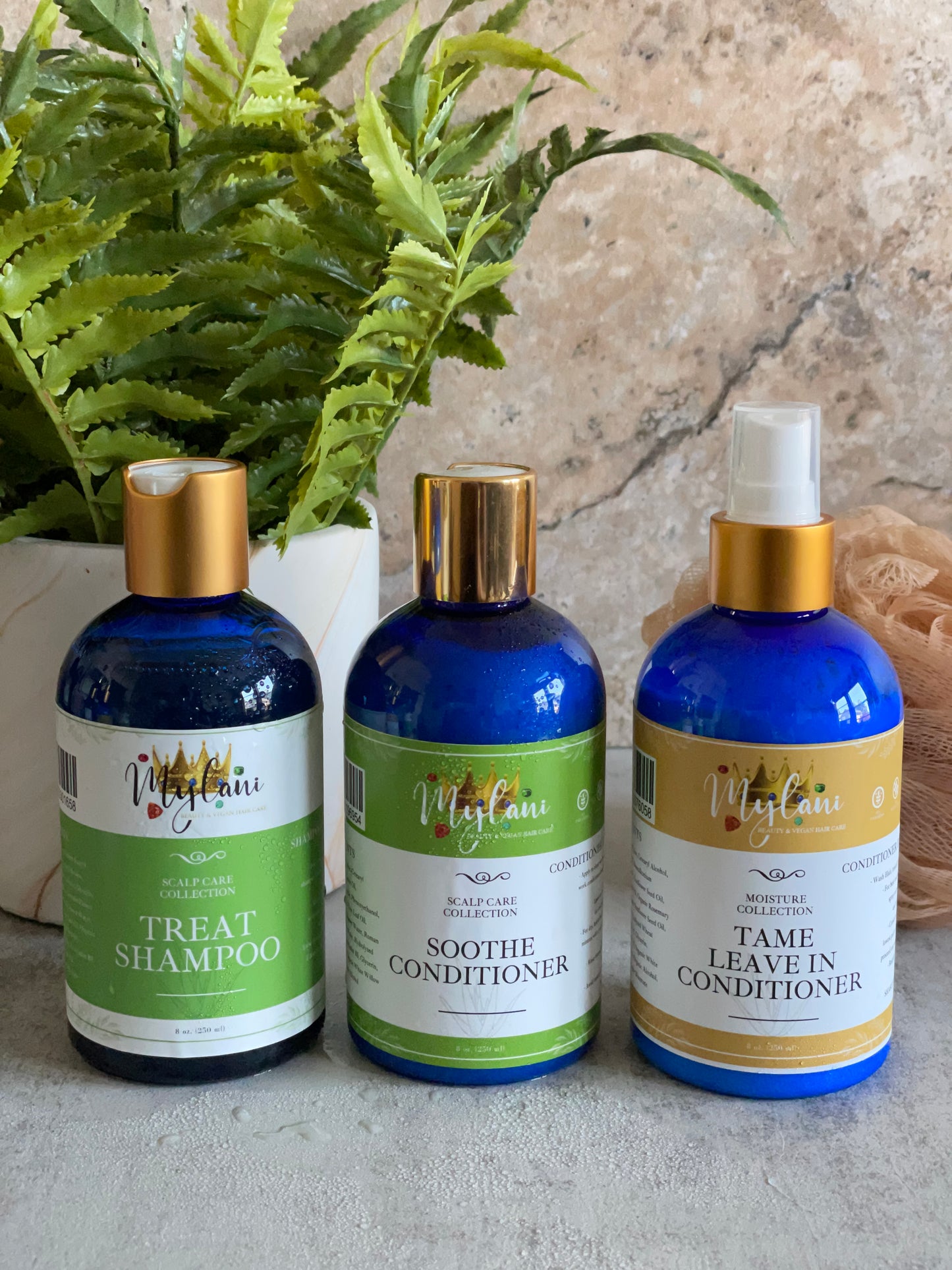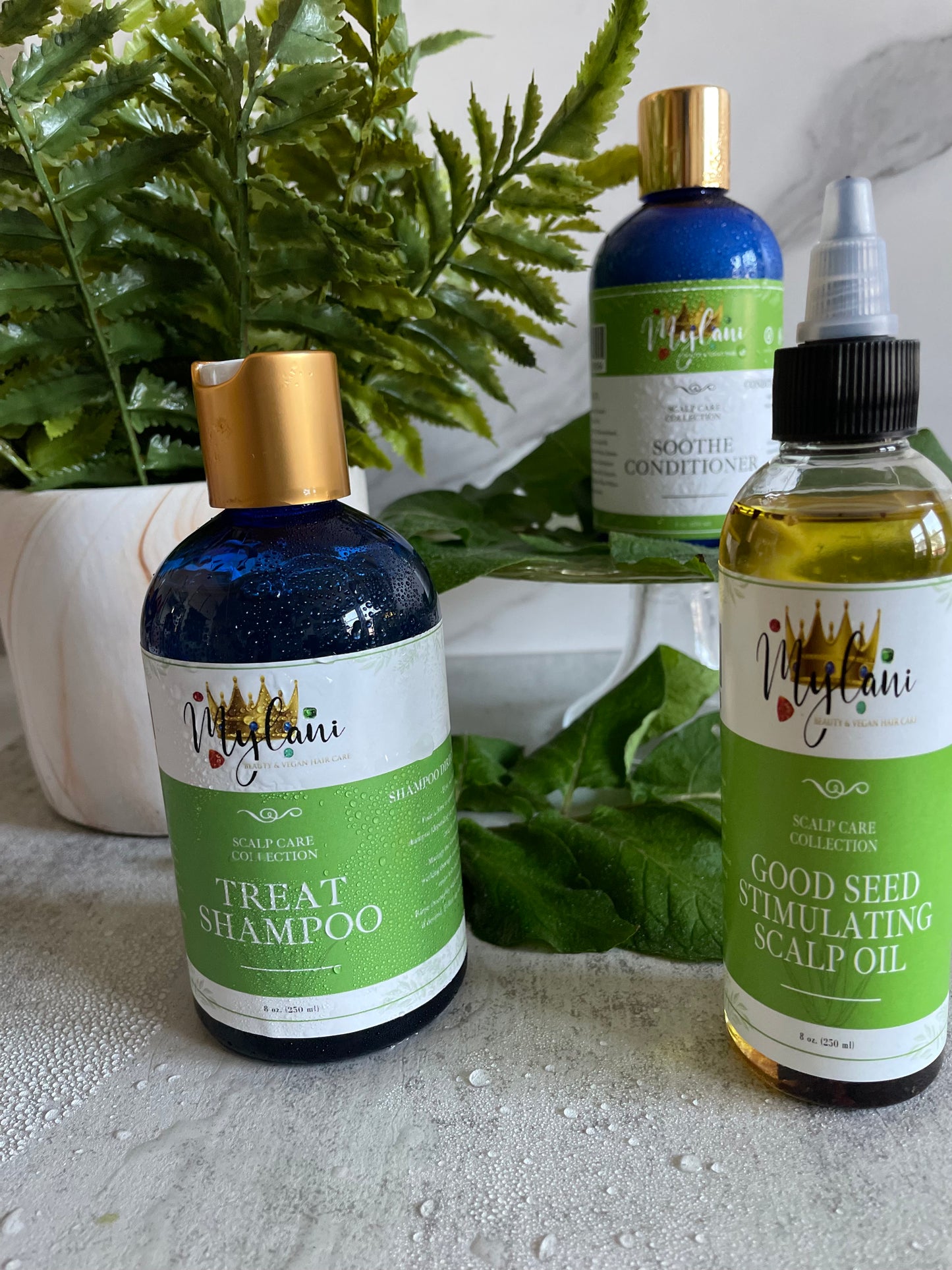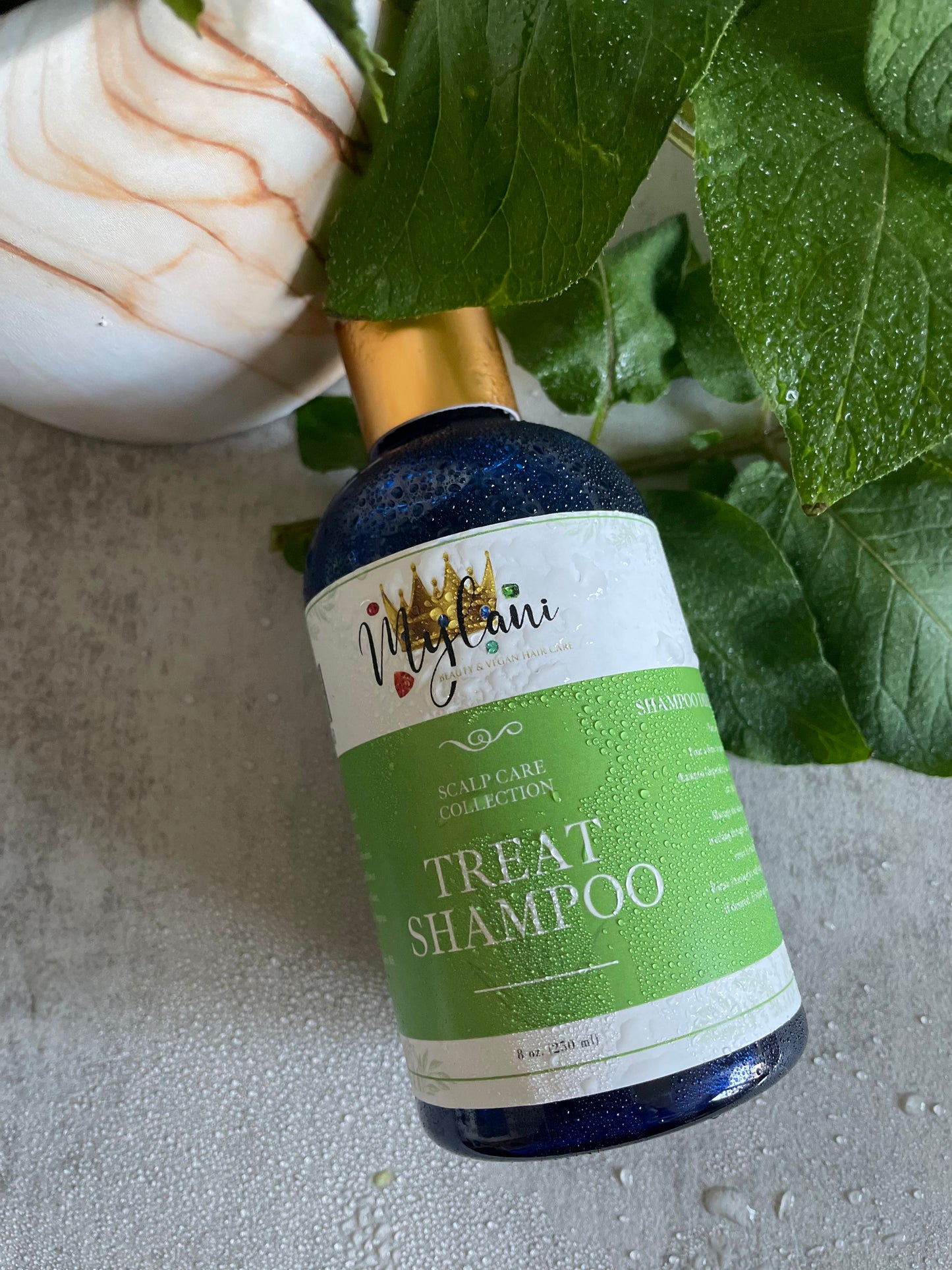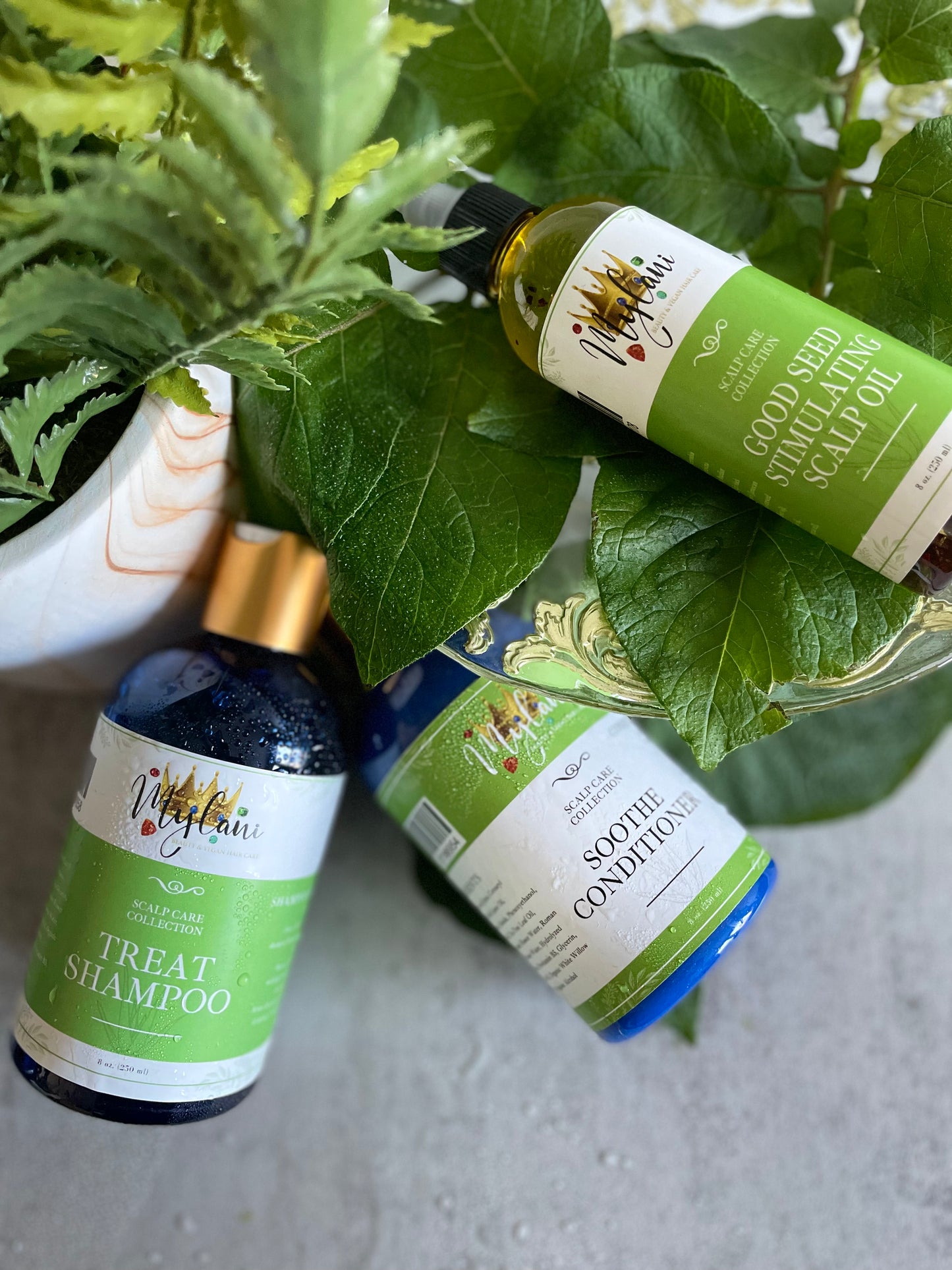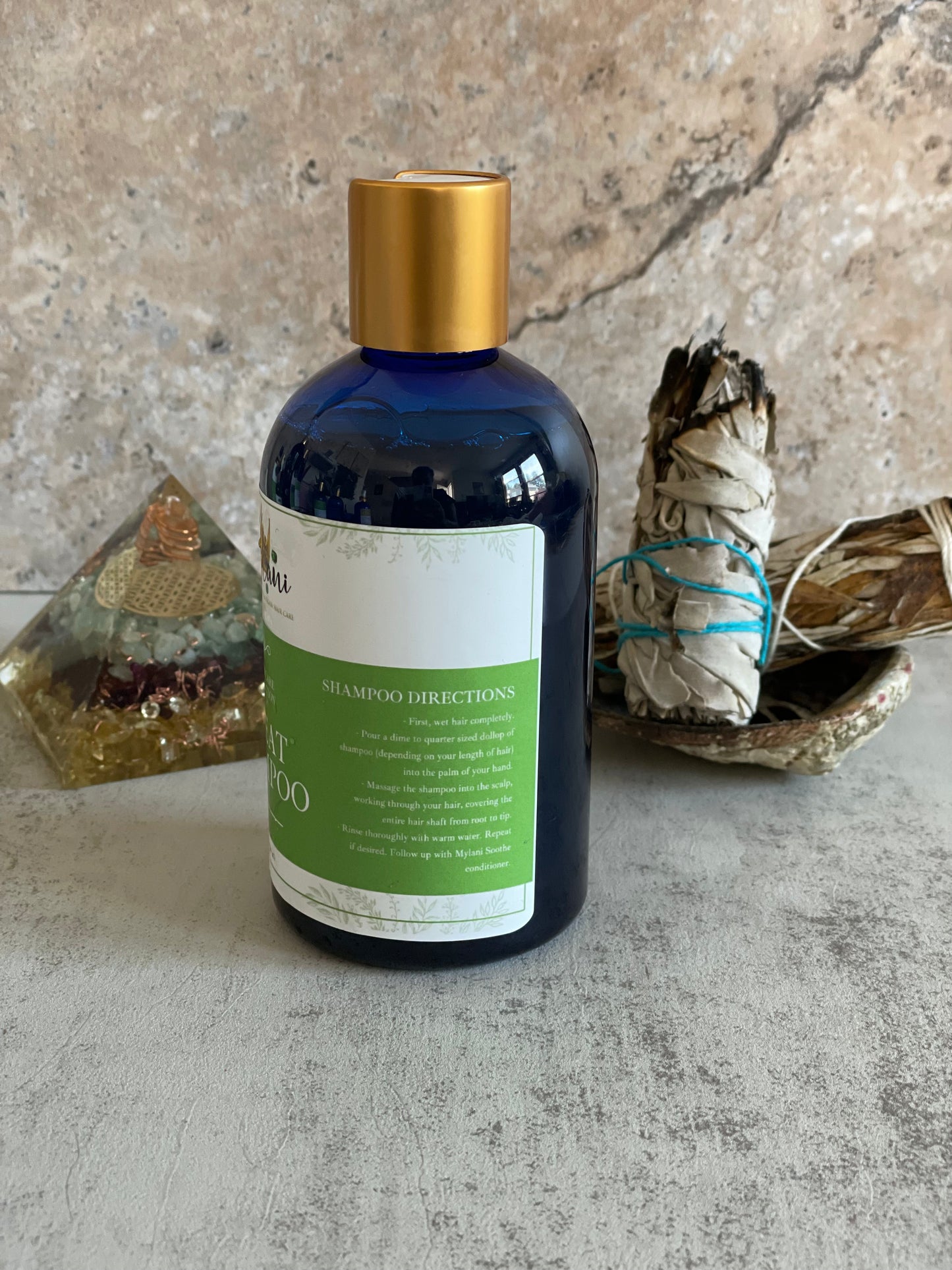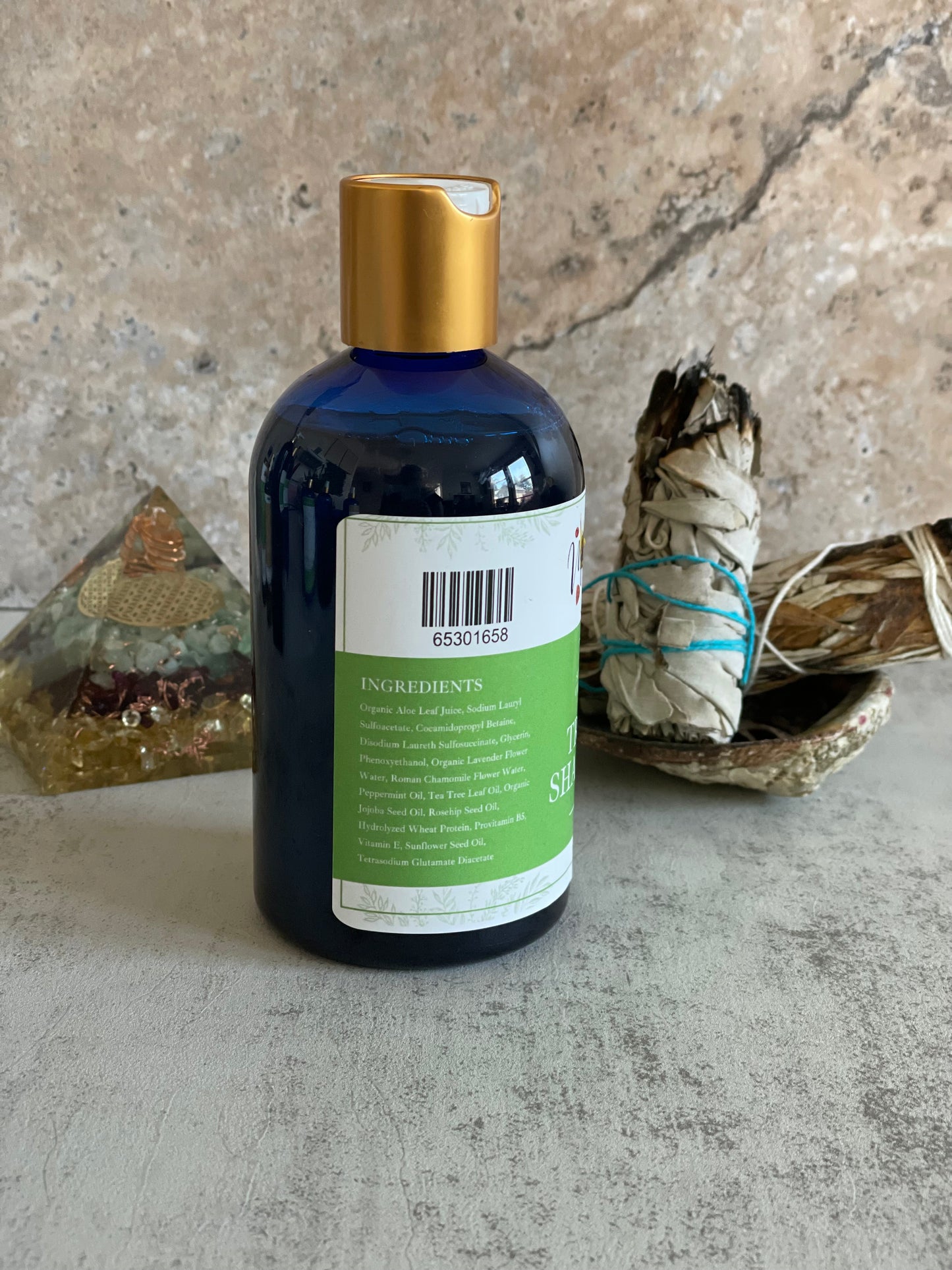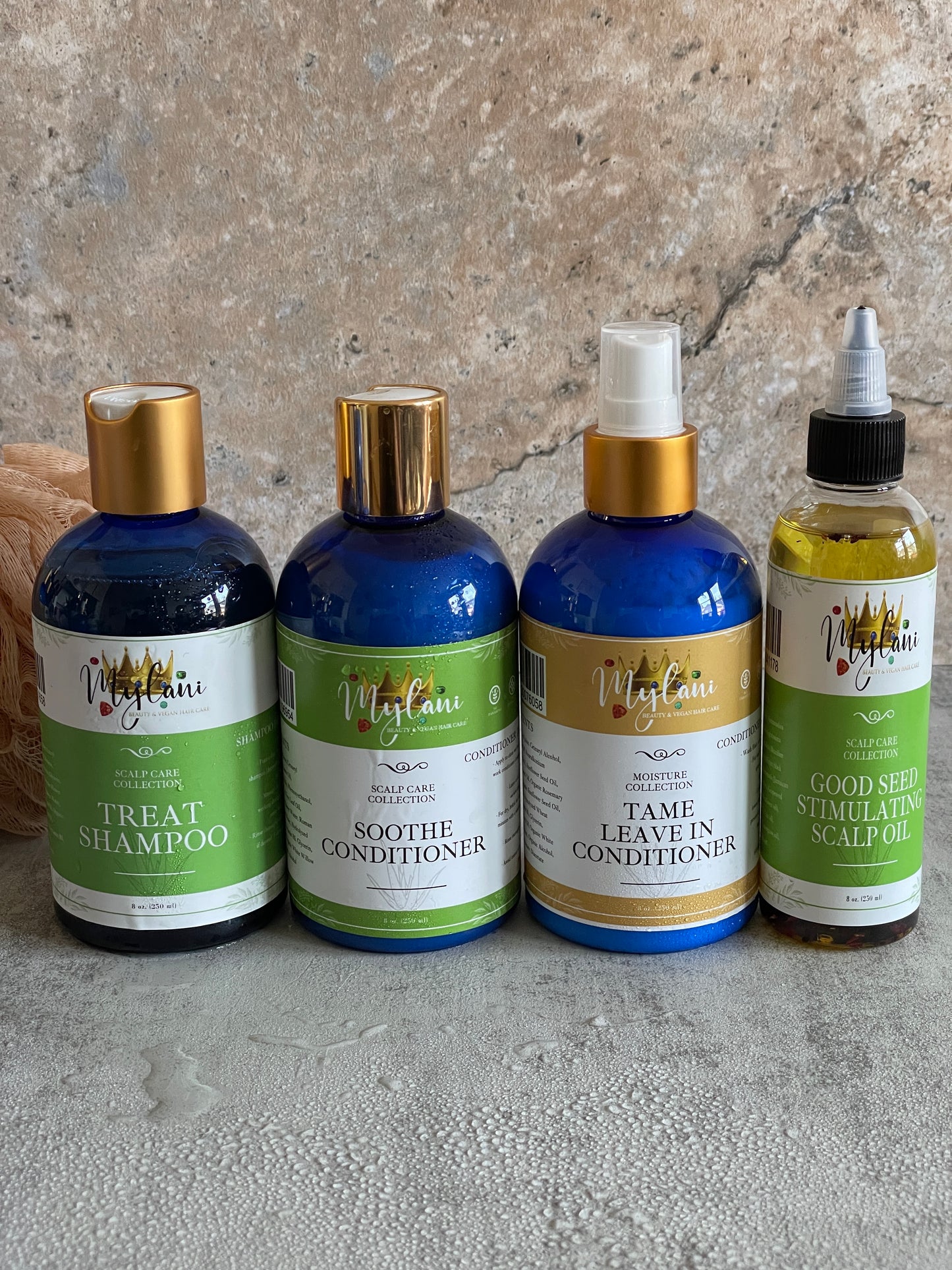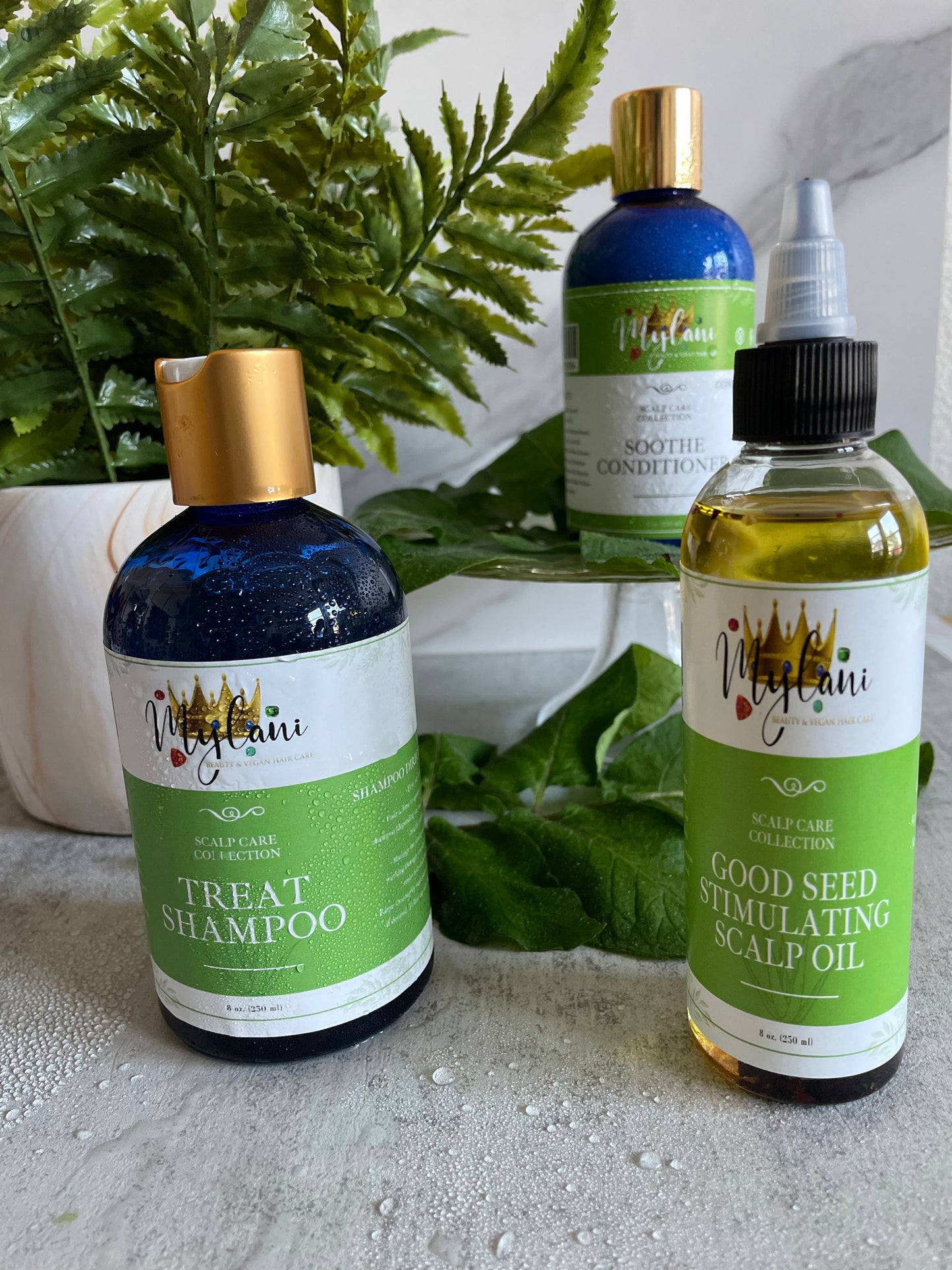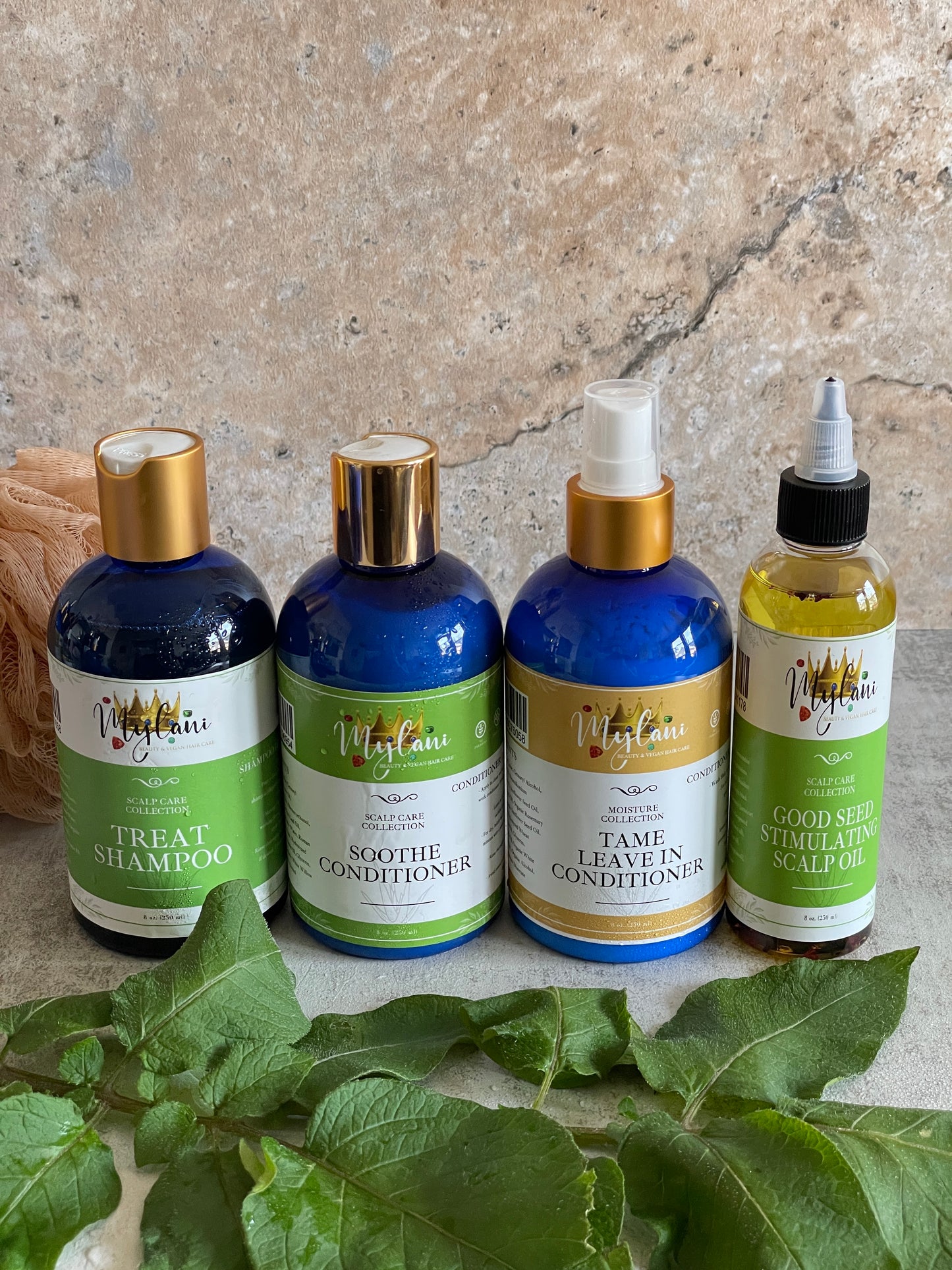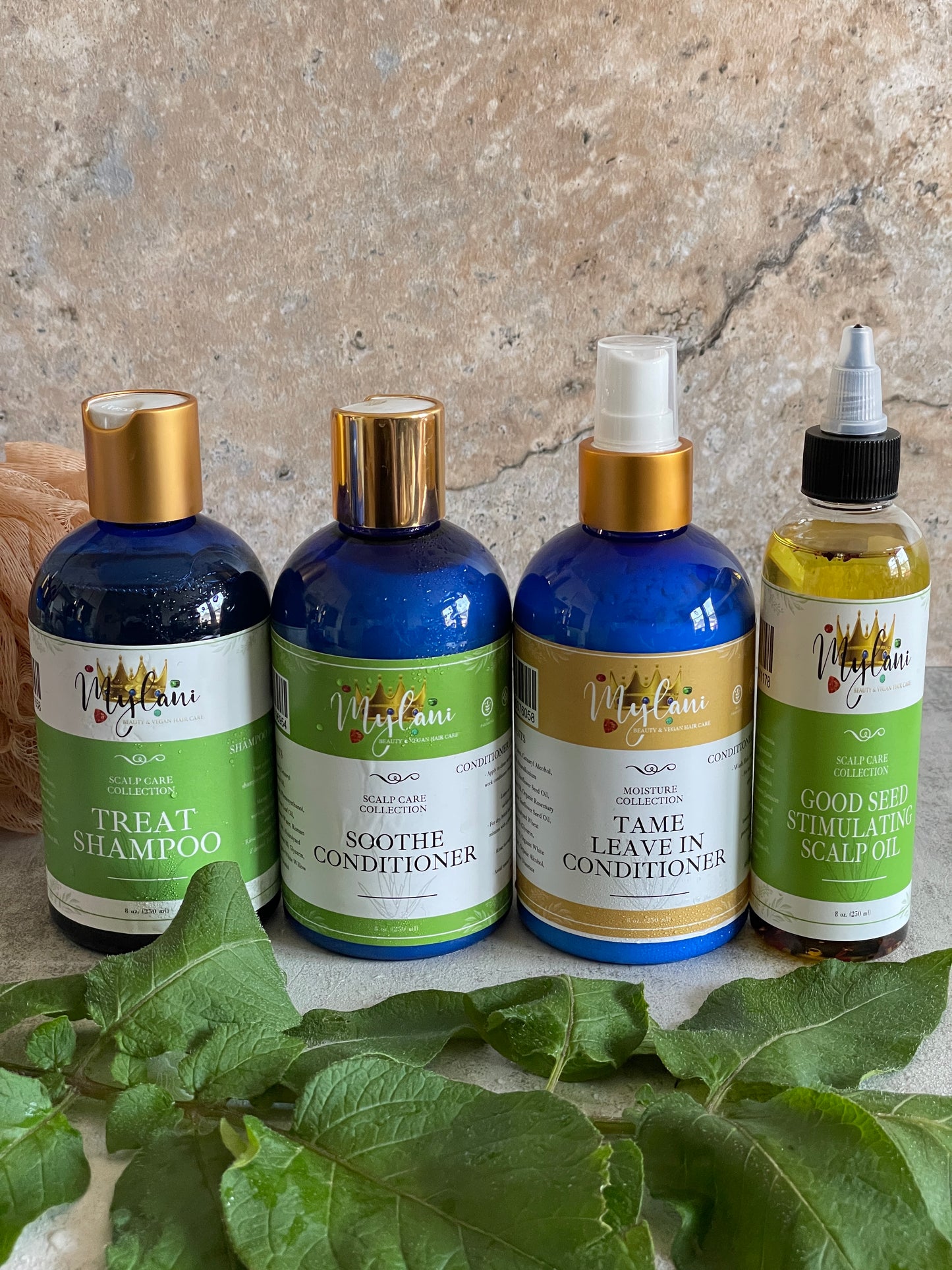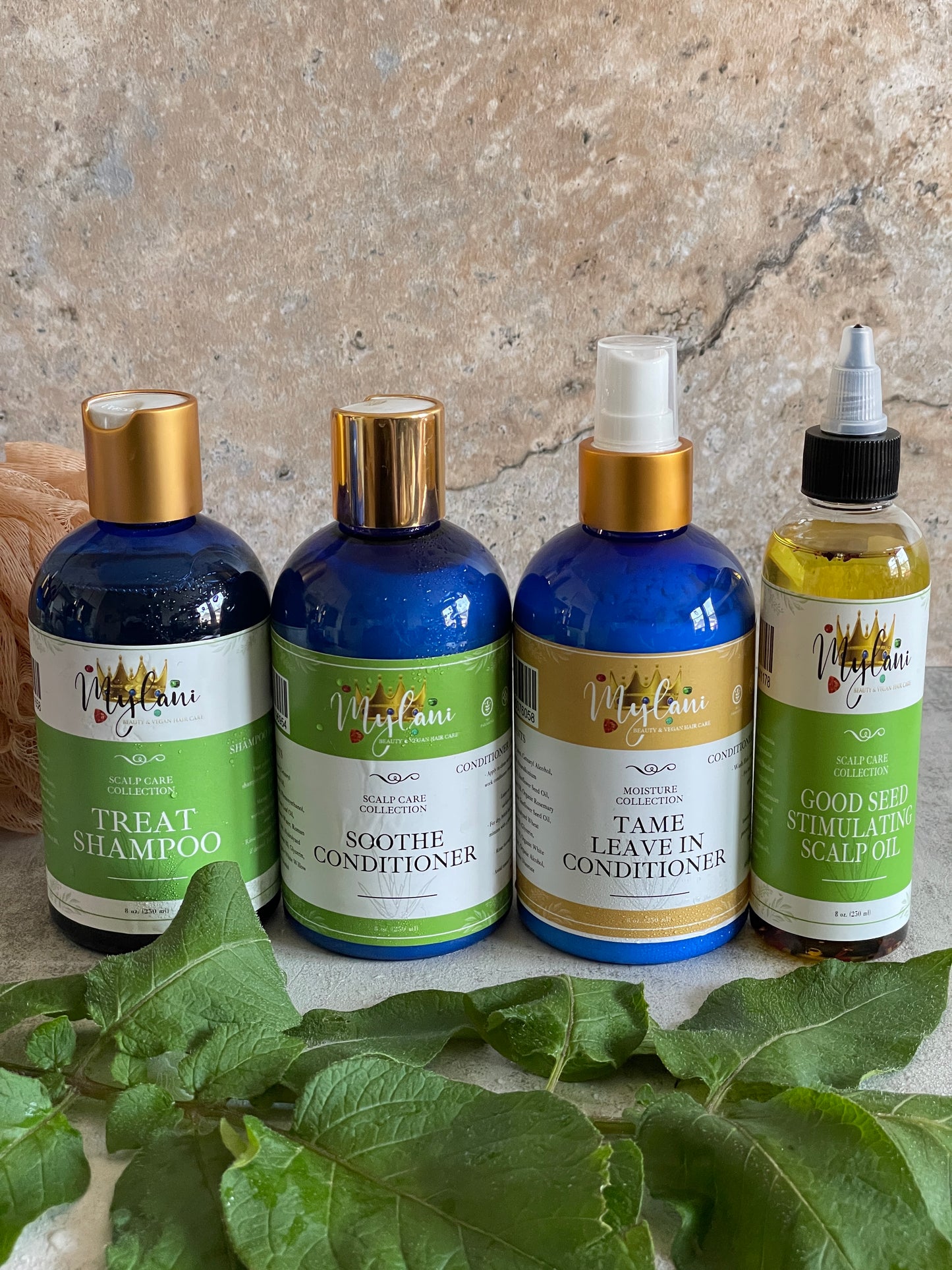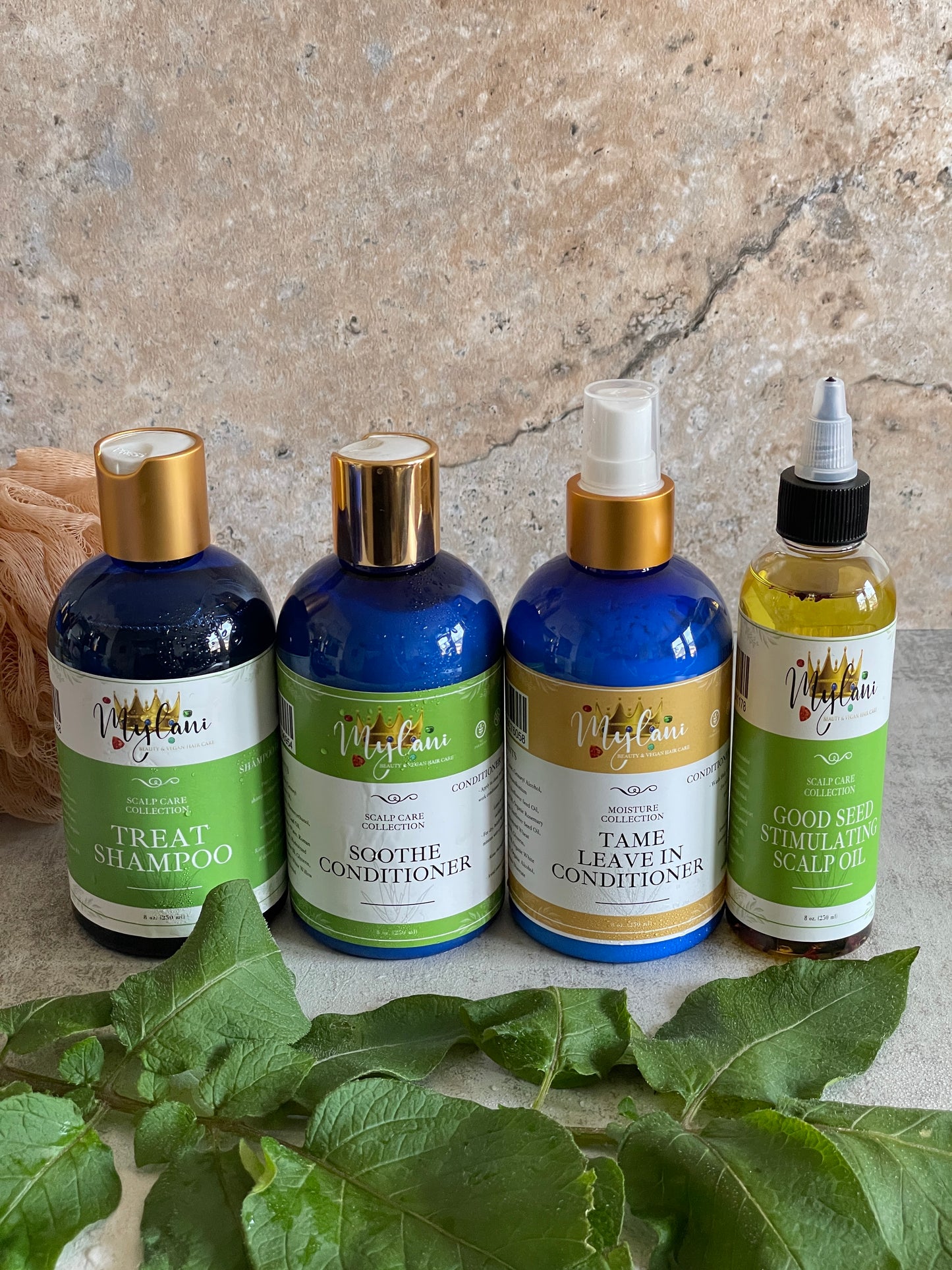 Say goodbye to dry scalp with Mylani
After years of irritation & dry scalp, I can finally say my problem is solved, my journey in search of products that work has come to an end. I can say goodbye to dry scalp with Mylani 👑
The TRUTH!!!!
From the first time I tried the product line I fell head over heels🤗🤗🤗🤗. The effectiveness of the cleaning of my hair to the conditioning of the hair is Amazing. You feel the change immediately when rinsing out the conditioner. I looked in the mirror after wrapping and allowing to dry on its own. The shine, the smoothness made me excited to style next!! These products work on ALL HAIR TYPES. I have recommended and used the products on 6 different people of different races, ages, genders and hair types. Each one experienced the same shock and happy I have. Your missing out if you don't get yours. It's not just hair help...its life changing!!!! My 14 year old with 4A sometimes 4C hair is now able to manage her fro, twist outs and wash and conditioning without my help. My Man after months of telling him to try is now a fan and his hair is incredibly softer!! Big bonus when your a braider. My memory care patients allow me to take them on a spa experience with the tingle of the peppermint deep conditioner and head massage as I complete their look. If this product can be remembered by them......BABY I KNEW IT WAS REAL!!! CHARLISA thanks for changing the game to healthy gorgeous hair, and for giving something I can keep giving to others. Double Bonus Queen!!! Retta